KIMCHI SOUP (with tofu or chicken)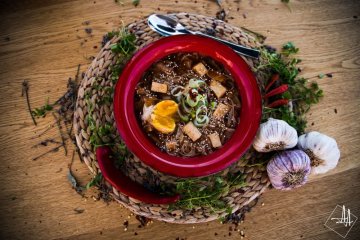 What you need:
1 bio vegetable broth

tofu or chicken

chilli, ground pepper, salt, spring onion

soy sauce

sesame seeds

2 egg yolks

thin rice noodles 

sesame oil (or other to taste)
Here we go:
Fry the chicken or tofu and set it aside.
Meanwhile, cook the Kimchi with vegetable broth in a pot for about 10 minutes and add rice noodles for the last 3 minutes.
Add the cooked meat (tofu), chopped spring onion, soy sauce, ground paprika, and sesame oil to the Kimchi.
Cook for about 5 minutes. Finally, add the egg yolks (do not whisk), and cook for the last 5 minutes.
Be careful to stir carefully so as not to crush the tofu.  Season with salt or chilli to taste. You can garnish the soup with spring onions and sesame seeds. 
For more recipes visit Beavia - Recipes.