KIMCHI RICE WITH VEGETABLES (alternative with tofu or chicken)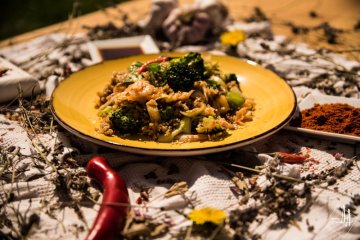 What you need:
olive oil

cooked rice (basmati or jasmine)

pak choi, broccoli or other vegetables to hand

tofu or chicken if you want to make it special

spring onion

sesame seeds

soy sauce

chilli, salt
Here we go:
Fry the roughly chopped vegetables in a pan, add tofu or chicken if you like.
Add a portion of spring onions and cooked rice.
When the mixture is well-roasted, stir in the soy sauce and a little Kimchi juice.
Finally, add about 2 tablespoons of Kimchi (can be added to taste).
Add chilli or salt to flavour, depending on the heat levels you are aiming for.
Sprinkle the remaining spring onion, chilli or sesame seeds over the top to garnish.  
For more recipes visit Beavia - Recipes.