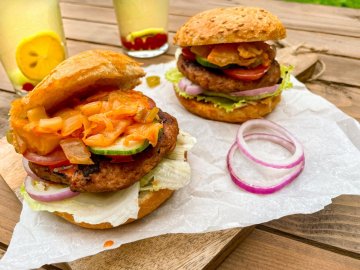 Burger enriched with Korean miracle full of vitamins and probiotics. So let's prepare a burger a little differently and let the people around your table experience the taste of a distant land and a supply of vitamins and probiotics.
Ingredients for 4 burgers:
4 buns (hamburger or other buns)
4 slices (beyond meat) or classic minced meat
1 tomato
½ red onion
a couple of pickled cucumbers
lettuce leaves
sauce - ketchup, mustard, mayo, houmous (for spreading on buns)
chilli pepper
Instructions:
Divide the meat into 4 even portions, season with salt and pepper. Grill over the high heat, turning until browned. You can also grill the buns and onions for a very short time.
Spread your favorite sauce on the cut sides of both the top and bottom halves of each bun. Assemble the hamburger buns with meat patties, slices of tomato, lettuce, onion, and kimchi to make this burger unique.
Serve and enjoy your Kimchi burger with friends or family. 
For more recipes visit Beavia- recipes library.