BEET BURGER - BEET PATTIES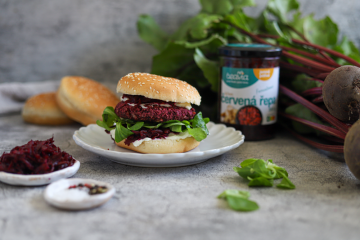 Ingredients for 6 burgers

For serving

250 g cooked beans
200 g ground oats
1 onion
2 cloves of garlic
2 tbsp liquid seasoning Beavia Luggi

6 burger buns
soyannaise or hummus
lamb's lettuce
Method
01 - Mix the fermented beetroot with the cooked beans. Add ground oats, finely chopped onion, crushed garlic, luggi, salt and pepper.
02 - Mix and divide into 6 equal parts. Shape each into a patty and place on a baking tray with baking paper. Bake for 30 minutes at 170 °C.
03 - Prepare a burger bun by cutting it in half, spreading it with soyannaise, putting the fermented beetroot, lamb's lettuce, beet patty, soyannaise again and fermented beetroot on top.
04 - Serve and enjoy!
For more recipes visit - Beavia - Recipes.