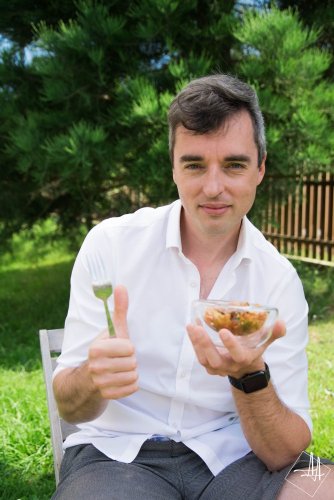 We want to give people the opportunity to eat well and feel better.
In 2011 I enthusiastically started fulfilling my dream. And it started with a true hummus, which is also a word for the mess in Czech. After visiting the Middle East and tasting their typical meals, the idea for I love Hummus started shaping. A few months later, I started a small family business in Czechia. It did not take long and it was simply too much for my 84-year-old grandma to cook all the chickpeas.
In 2017, I included Kimchi - a fermented salad from Chinese cabbage among my products. We did well! Moving to a new factory, new flavours, growing team, exporting to neighbouring countries, birth of my son Joseph.
For the 10th anniversary of the company, I decided to change the brand from I love Hummus to Beavia (from Latin: Happy Journey), which better describes the future direction of the company, the development of our products, and my happy journey.
Where can you find our products?
In order to be close to you, you will find our products in online shops, health food stores as well as supermarkets (Tesco, Metro/Makro, Globus, Ahold/Albert, REWE/Billa, Kaufland). We supply restaurants and corporate clients – including foreign ones.
We are focused on B2B partnerships and private labels - production of Kimchi and other fermented products. Our products are offered by pallets. Jars and labels can be adjusted according to your needs.
Our manufacturing process is HACCP-compliant. We are the holders of IFS Global Markets - Food and BIO certificates.